Do we want to send our money overseas? Off course not
Do we like having to risk never being paid? Umm No
If we could place our bets in Australia would we? HELL YES
This happens every single day on every single bet most people try and place. It is infact the bookmakers that form the AWC that have forced punters hands and the only way they can now bet is to go offshore.
In total I could get $389 to win $163 across all Australian Wagering Council Bookmakers. While betting with some offshore bookmakers is risky, they will at least take a bet from customers. They need to make sure everyone is given a fair go and can bet whatever they like on all sports and that these corporate bookmakers pay a fair tax on their profits. All thanks to the members of the Australian Wagering Council.

Time to crack the whip on illegal offshore operators
The proliferation of illegal offshore operators again highlights the need for government reform of the Interactive Gambling Act 2001 (Cth), which no longer reflects the current state of technology or advances in global harm
minimization measures.
This morning I read the following statement from the so called Australian Wagering Council (which is solely made up of Bristish Bookmakers) which really made me angry.
The Australian Wagering Council has warned more Australians face losing their money and risks to the security of their personal and financial information, unless governments commit to a crackdown on the operations of illegal offshore wagering service providers.
Maybe off to Unibet then
What a load of utter f&cken bulls#t. The Australian Wagering Council is dead right when it said "the need for government reform of the Interactive Gambling Act 2001 (Cth), which no longer reflects the current state of technology". This NRL game is a huge game and yet they limit or ban me completely. These UK giants made a big mistake when they thought they could treat the Australian public the same way they treated the UK public for years.
I went to Sportsbet first
"If you enjoy a bet on racing and sport make sure you do it with an Australian licensed, highly regulated wagering service provider", Mr Downy concluded.
It is estimated in excess of $1Billion is bet offshore by Australians annually and a 2014 report on interactive gambling, funded by Gambling Research Australia, found that at least one-third of interactive gamblers were not concerned about gambling with offshore providers.
I wanted to place $500 on South Sydney to win tonight's big NRL finals game against Manly. The prices on the Australian bookies varied between 1.4 and 1.45. The government needs to act immediately to stop these bookmakers from making Australian punters risk their money overseas. I could get better offshore, but lets say i really wanted to support local australian business (cough, hack, wheeze).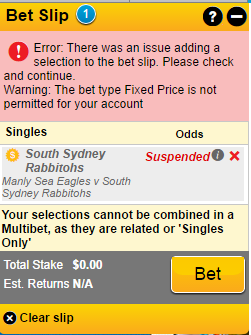 I'm not even allowed to bet 1 cent with them on the game.
Now sadly I am off to send money I really don't want to overseas bookies. My only choice is to bet offshore.
You can read the entire thing here, but I'll paste the gist of it.
What about Ladbrokes group (Ladbrokes, Bookmaker and Betstar)
They let me bet $200.

Hmm, a mighty $113
Off to Tom Waterhouse (sportingbet and Centrebet)
I could bet a max of $76 here.
For recreational bettors who want to place bet with a single bookie. It is suggested that they should select sport book after comparison of different sport books and that sport book should be selected that is offering lowest margins as compare to others these books are mostly located near to the top of odds comparison.
Latest posts by Freddie Gregory (see all)